http://themurdochempireanditsnestofvipers.blogspot.com/2012/03/leveson-inquiry-virginia-wheeler.html
The Sun
Family's airport video of Maddie
Virginia Wheeler
29 May 2007
The Sun

THE parents of missing Madeleine McCann yesterday released holiday videos shot days before her abduction.

Maddie, four, is seen excitedly boarding a jet to Portugal with a pal. She was snatched from her family's apartment 26 days ago.

==========================

Poignant airport clip of Maddie

From VIRGINIA WHEELER
and NICK PARKER in Praia da Luz
Published: 29 May 2007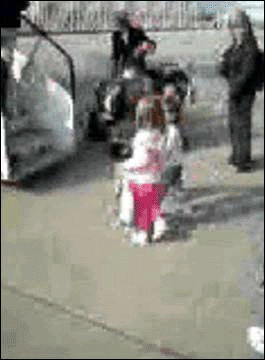 Joy ... not even a stumble can put a dampener on Maddie's mood as she boards plane
THESE must surely be the most heartbreaking holiday pictures you will ever see.

Giggling with excitement, little Madeleine McCann climbs the steps of a plane bound for Portugal.

She clutches a brand new Barbie rucksack containing her favourite Cuddle Cat soft toy ? all set for a week of fun.

But five days later, on May 3, someone snatched Maddie, four, from her bed in the family's resort apartment. Twenty-six days later, there is still no sign of her.

The nine-second mobile phone clip shows Maddie, in dark pink trousers and a light pink top, holding hands with another little girl.

In her haste to get aboard the holiday jet, she rushes up the first three steps and slips, grazing her shin. But brave Maddie cries for only a few seconds ? too thrilled to be upset for long. The clip is one of two released yesterday by her parents Gerry and Kate, both 38.

Both were taken by a friend. The other shows Maddie sitting on the shuttle bus at Faro airport, happily swinging her legs as she waits for the short drive to their holiday destination, Praia da Luz.

Agonised Kate watches the last moving images of her daughter every day.

To see the mobile video

Emotional Gerry, from Rothley, Leics, clutched Maddie's pink rucksack yesterday as he said: "She was dead excited about going away.

"She refused to get upset about hurting herself. She started crying but stopped almost immediately. It looked really sore, something that usually would cause ten minutes of crying rather than ten seconds. She was really brave."

Hol starts here ... Maddie with her sister, brother and fourth tot on Faro shuttle bus

The McCann family ? doctors Gerry and Kate, Madeleine and two-year-old twins Sean and Amelie ? travelled in a group of ten to the Algarve from East Midlands airport on April 28.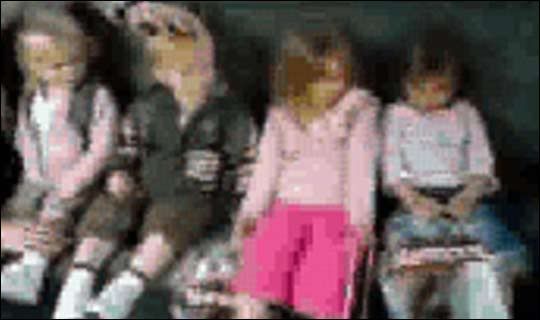 Hol starts here ... Maddie with her sister, brother and fourth tot on Faro shuttle bus

Today Kate and Gerry kissed goodbye to their two-year-old twins as they left Portugal for the first time together since their Maddie disappeared.

The McCanns are flying to Rome to prepare for a meeting with the Pope tomorrow.

They decided twins Sean and Amelie were too young to travel and left them in the care of relatives for the 24 hours they are away.

The couple hugged and kissed the toddlers, Mrs McCann wearing green and yellow ribbons in her hair. They waved goodbye and promised to be back tomorrow, leaving them with Mr McCann's sister Trish Cameron.

The couple were chauffeur-driven in a Mercedes and taken to retail tycoon Sir Philip Green's private jet, which was put at their disposal.

The Top Shop boss offered them his 12-seater Gulfstream jet after hearing about Madeleine's abduction.

Mr and Mrs McCann will fly from the VIP terminal near Faro airport in the Algarve to Rome's Ciampino airport.

Sir Philip flew to London this morning and the crew flew on to Portugal for the two-day trip.

The McCanns will be met by the British ambassador to the Holy See Francis Campbell and stay at the British residency in Rome.

Tomorrow morning they will attend a general audience in St Peter's Square and will be introduced to Pope Benedict XVI at the end of the session.

Mrs McCann wants to give the Pope a photograph of her daughter and the Pontiff is understood to be happy to accept such a gift.

It emerged yesterday that British mobile phone experts have been drafted in ? in a bid to lead cops to Maddie.

And Portuguese police want to speak to a British yachtsman who was in email contact with prime suspect Robert Murat.

A mobile can be tracked from a trail of silent signals it sends to radio masts ? and its position pinpointed within feet.
My girl ... mum Kate views Maddie poster

So far no evidence has been found linking Madeleine's disappearance with Murat, 33, who lives in Praia da Luz and viewed child porn on his computer.

But cops will check his version of events at the time she was snatched against his phone "trail". Similar teams helped nail Soham murderer Ian Huntley when he lied about his whereabouts.

A police source said: "These specialist skills could be crucial."

The British sailor police seek had a yacht moored at Lagos marina in Portugal for several years but is now understood to have left the area. Police found "suspicious references" in his communications with Murat. A man was also seen carrying a child at the marina, raising fears Maddie was smuggled out by sea.

Maddie's dad Gerry yesterday thanked "millions of people worldwide" who had supported the campaign to find Maddie.
Agony ... Maddie's parents Kate and Gerry

He and Kate are considering offers to appear on US chat shows to help spread word of the hunt for their daughter.

An inflatable 800-square foot poster of Maddie is touring Algarve resorts.

Rockers Simple Minds may re-release their hit Don't You Forget About Me in aid of the Find Maddie campaign.

And the Bryan Adams smash Everything I Do, I Do It For You may be used in a video appeal.

Maddie's parents were touched by the opening line "Look into my eyes . . . you will see what you mean to me", as Maddie has a mark in her iris that makes her instantly recognisable.
A THESIS WITHOUT EVIDENCE IS MEANINGLESS AND THAT IS WHAT WE ARE CHALLENGING. THERE IS NO EVIDENCE OF AN ABDUCTION . NONE