May 3rd it was announced the McCanns would be in Lisbon to launch their book..the launch date May 23rd. Kate McCann this week has accused the Portuguese police of covering up child abuse sex crimes at the same time she has lied and said NO ONE helped in the search for her child. The escorts... I would imagine are bodyguards to make sure Kate does not come to any harm. A simple PR stunt nothing more and nothing less. Something positive however always comes out of the McCanns circus, we now know Cameron is aware of Madeleines death. Thanks Dave.
UPDATE: ESCORT should read accompany...The police will accompany the McCanns...
Madeleine: Livro de Kate McCann lançado a 23 de maio em Lisboa
03 de Maio de 2011, 07:30
A mãe de Madeleine McCann vai lançar um livro com o nome da filha, a 23 de maio em Lisboa, quatro anos depois do desaparecimento da criança na Praia da Luz, Algarve, que se assinala hoje.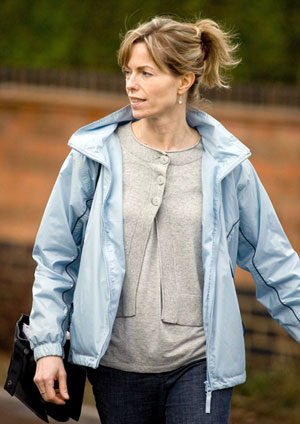 Em nota enviada pela assessoria de imprensa em Portugal, Kate McCann refere que o livro foi escrito com o objetivo de "transmitir a verdade" e a "versão dos acontecimentos" dos pais de Maddie.
A mãe da criança acrescentou que "não foi uma decisão fácil" escrever o livro "Madeleine", com cada cêntimo que resultar das vendas deste livro a reverter para "a investigação e procura de Madeleine".
"Nada é mais importante para nós do que encontrar a nossa menina", esclareceu Kate.
O marido, Gerry McCann, afirmou-se esperançado que o livro "ajude a investigação para encontrar Madeleine de outras maneiras também".
"A nossa esperança é que tenha impacto naqueles que têm informação relevante (consciente ou não), para que a apresentem, para que a partilhem com a nossa equipe. Alguém tem a peça chave do quebra-cabeças", disse.
A menina inglesa desapareceu a 03 de maio de 2007, do quarto onde dormia com os seus dois irmãos gémeos, enquanto os pais jantavam com um grupo de amigos num restaurante próximo, no aldeamento turístico Ocean Club, na Aldeia da Luz.
Ao fim de três dias de buscas intensas, com a mobilização de mais de 300 pessoas, entre elementos militares da GNR, bombeiros e população civil, o director da PJ de Faro, Guilhermino Encarnação, anunciou que tinham sido reunidos elementos que asseguravam a tese de "rapto" e que na origem do crime poderiam estar "o resgate e/ou motivos sexuais".
Ao fim de 11 dias de diligências, a PJ constituiu arguido um cidadão inglês, Robert Murat, por suspeitas da sua implicação no caso, mas não encontrou provas para o deter.
Robert Murat, empresário no ramo imobiliário, chegou a servir de intérprete entre a família e as autoridades nos dias a seguir ao desaparecimento e reside na Praia da Luz, numa casa a cerca de 100 metros do apartamento do complexo turístico Ocean Club onde a criança foi vista pela última vez.
Sem corpo e sem autores do crime, a Polícia Judiciária (PJ), que inicialmente admitiu o rapto, virou o rumo da investigação, em Agosto de 2007, para a possível morte da criança, com as suspeitas a recaírem sobre os pais, Gerry e Kate McCann, ambos médicos.
A reviravolta na investigação baseou-se em vestígios biológicos recolhidos no apartamento e no carro alugado pelo casal McCann, 25 dias depois do desaparecimento da sua filha.
Depois de terem sido sujeitos a várias horas de interrogatório no Departamento de Investigação Criminal (DIC) da PJ de Portimão, Gerry e Kate McCann foram constituídos arguidos.
Em meados de 2008, o procurador da República arquiva o processo, que será reaberto caso surjam novos dados relevantes.
@Lusa
http://steelmagnolia-steelmagnolia.blogspot.com/2011/05/httpnoticias.html