The TRIBUNE online Indian edition reports on every move Murdoch makes and which newspaper just happened to carry the Indian sighting HOAX yes, you've got it...The Online Tribune India. Once again MURDOCH owns massive mediaship in India and I believe he arranged this little 'hoax' as a diversion to take the heat away from hackgate. Mitchell the mouth just did the rest. AND they clearly state they found their information on Wikipedia, good bit of indepth research there !

Rupert Murdoch-led News Corp's strategy to operate under multiple brands may help the group shield its Indian businesses from any possible fallout of the crisis engulfing the group in the UK and the US, experts say.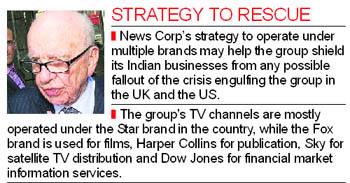 The media conglomerate, which owns assets worth $66 billion (about Rs 3 lakh crore) across the world, has a significant presence in India, including in the television content and distribution, publishing, films and news businesses. Experts believe that the Indian businesses may remain insulated from the phone hacking and police bribery scandals that have pushed the group into a deep crisis in its key Western markets.
The Indian business might be affected only if the group's worldwide business comes under the scanner, they added.
The group operates most of its businesses in India through Star India Pvt Ltd, a wholly owned subsidiary of US-listed News Corporation.
Its portfolio here includes about three dozen general entertainment channels and three news channels including Star News. The Indian business has been a key contributor to its global TV advertising revenues.
The group's TV channels are mostly operated under the Star brand in the country, while the Fox brand is used for films, Harper Collins for publication, Sky for satellite TV distribution and Dow Jones for financial market information services.
While the queries sent to Star India remained unanswered, media buyers and planners said that a layman here may not even know that the Star TV channels in India were owned by Murdoch.
"I don't think it will have any impact on his India business. His India business is strong and growing and mainly focused on entertainment," Madison World Chairman and MD Sam Balsara said.
"People from the media and advertising industry are aware of the crisis, but the phone hacking controversy will not have any impact on routine operations here. Nothing will change for him here," another media advertising executive said.
Rupert Murdoch himself has described the group's Indian business as a "next generation" prospect.
A few months ago in March this year, during his visit to India, his son James Murdoch had also rued regulatory bottlenecks in the country. — PTI
ttp://www.tribuneindia.com/2011/20110724/main4.htm


Leh, July 23

High drama prevailed in the busy Fort Road market of the city last night when three persons identified a six-year-old girl as Madeleine McCann, a British girl who went missing while on a holiday in Portugal in 2007.

The infamous case had hogged limelight when Madeleine disappeared in May 2007 while she was holidaying with her parents and siblings in the Algarve region of Portugal. The minor girl went missing from an apartment a few days before her fourth birthday and has still not been found. According to the Wikipedia and various web portals, Madeline's parents Kate and Gerry McCann had stated that they had left the children unsupervised in the ground floor bedroom while they were at a restaurant about 120 metres away.

Last night, a British woman saw a French woman with her Belgian husband roaming in the market with a girl who looked like Madeleine. She immediately informed the British police and the Leh police. The local police has taken the passports of the suspects for verification.

The missing girl's parents have set up a website where they have put up her pictures that were taken in 2007 and also pictures of how she would look like as she would grow up.

As the British woman shared her suspicions with few others and took a picture of the girl, an American youth -- who was also following the couple -- tried to take away the girl from them. He later told the police that he suspected the girl to be Madeleine. Another American woman also shared the suspicion.

The French woman, however, rubbished their claims, saying that she and her husband were the biological parents of the girl.

A local police official said there was worldwide alert for Madeleine and it would be a great honour for the Leh police to find the missing girl. "However, it all depends upon the evidence like DNA for which help from Madeleine's parents and the British police was required