For the Attention of Louise and Brian
.
I apologise and would like to make it clear, the comment I made about Louise was from myself and not Brian. ( I do not place your link for obvious reasons)I do not trust the BBC, full stop...and after the slap dash reporting from MikeO'Sullivan , Dr.Amaral he claimed told the McCanns to 'Fuck Off 'on live TV (this was a blatant lie). There is a smear campaign against Dr.Amaral by the BBC and many are waiting for an apology.
Dr Amaral has won his appeal against the McCanns and his book is back on the shelves but not a word from the BBC about this latest news. The McCanns today out and about with their begging bowl claiming they need money to search for their daughter,( fully covered by the BBC) they need money because they have to pay the Court costs of Dr.Amaral, whose book is no longer banned..
I would like to add I have followed the fall-out from investigation Operation Ore, the biased reporting from the BBC, the shambles and tragedies that followed and your plight for many years . I send all my support and good wishes to you all and hope for the very best results.
Louise , if you notice I did underline after your request and apologise once more for the misunderstanding but at this moment in time I trust no one who has any connection with the BBC, (nothing personal) who fully support the McCanns and Jim Gamble. I have also clarified the comment is from Steeelmagnolia.
The McCanns and Jim Gamble are joined at the hip and have been since the early days of May 2007.
Warmest regards... and good luck for the 11th.
Steelmagnolia.
Louise Shorter
, ex-researcher for the BBC has approached and asked some of the families whose lives have been destroyed by
Jim Gamble and the police investigation Operation Ore
if they would be prepared to be interviewed before the hearing
November 11th
. The
Orees
, I am glad to say have refused and agree they will only talk with the media after the appeal hearing.
Here is the request of Louise
"In order for me to start discussions with the BBC I'll
need to know whether any of the affected men (and their
families too ideally) would be prepared to go on camera.
It's a big ask, I know. I wonder if it might appeal to
somebody who would see this as an opportunity to show
the devastation it has had on their lives, expose the fraud
which went on within Landslide and reveal how they are
completely innocent. I only deal with miscarriage of
justice work, I have no agenda other than to expose
wrongful convictions and the investigations and court
proceedings which got it so wrong."
----------------------------------------------------------
Comment :
from Steeelmagnolia
The BBC have always been extremely biased and a great supporter of Jim Gamble claiming Operation Ore was a complete success.
I hope when the Orees choose a journalist to air the truth of what really happened, they do not involve the BBC who may even after the appeal, slant the case once more . The timing is suspect with the hearing days away and I do not trust Louise Shorter at this moment in time.
Louise attended last Friday's High Court hearing where she met the legal team. She wrote again today requesting participation in a possible programme. She has just published this in the prisoners' magazine - Insidetime, with which she is now involved - www.insidetime.org/ It does not yet appear to be online, but will prob appear when the Nov issue becomes live.

'Massive miscarriage of justice' Louise Shorter

www.insidetime.org/

Legal action set to take place in the Court of Appeal in London could pave the way for hundreds of child pornography convictions, secured during Operation Ore, to be overturned in what is being described by campaigners as a 'massive miscarriage of justice' Operation Ore, the codename for the police investigation which began in 2002, was launched after information supplied by US law enforcement agencies purported to show that more than 7,000 UK men used their credit cards to access online child pornography sites. It netted high profile figures such as The Who guitarist Pete Townshend and fed the nation's fear that paedophilia is endemic throughout modern cyber-savvy society. But the police operation which ran for more than five years is steeped in controversy, with critics claiming the computer database of users' names and credit card details was riddled with fraud. Defence experts say the fraud being perpetuated was simple and effective: owners of websites including legal adult pornography re-used credit card details supplied to them to sign up for their illegal services, child pornography.

Chris Saltrese, the solicitor representing Anthony O'Shea whose case will be heard at the Appeal Court this month, says: "there are hundreds of people who've been convicted of one of the worst crimes imaginable. Lives and families have been destroyed. But the evidence now shows that many of those convicted weren't paedophiles at all. They were victims of straightforward online credit card fraud."
Anthony O'Shea's house was one of more than 4,000 homes raided during the police operation which ultimately led to 2,000 convictions and 140 children being removed from their homes. Though no illegal paedophile material was found on Mr O'Shea's computer, his credit card had been used attempting to pay for access to sites. In 2005 he was convicted, sentenced to 5 months in jail and placed on the sex offender register for 7 years. His life, he says, and that of his wife, children, sibling and parents have all been destroyed. Throughout all of the original trials, defence teams were denied access to the full computer database which provided the list of credit card details on which the Ore prosecutions were brought. Taking more than 5 years to secure sight of the database, a defence expert who has examined it now claims 'indicators of fraud are present in abundance.' Those indicators include evidence that subscribers paid to access these illegal sites but then failed to view the material paid for, and that credit cards were used to pay for multiple subscriptions even though only one was required.

Last month, in a separate case, a London based businessman, Chris Singam, was awarded £180,000 damages after charges of downloading child pornography were thrown out two weeks before the case was due to be heard in court. Having lost his business, been threatened and ostracised, Mr Singam was eventually told the computer evidence the CPS relied on was "flawed" – his computer had been infected with a virus. To date, 39 men caught up in Operation Ore are said to have committed suicide.


Louise Shorter was the Producer/Director of the BBC's long running miscarriage of justice series Rough Justice for 10 years. She now runs a small investigative unit called Inside Justice for Inside Time and aims to secure publicity in the wider media for prisoners who claim they have been wrongly convicted. Submissions to this unit should, where possible, be sent via your solicitor to Louise Shorter at Inside Time.
http://www.guardian.co.uk/technology/2007/nov/12/bbc.television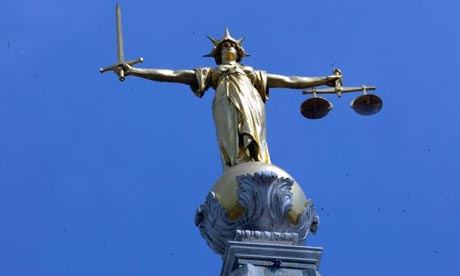 Long-running BBC documentary strand
Rough Justice
, which has exposed miscarriages of justice for 27 years, has been axed.
The corporation has decided to discontinue the programme as part of its strategy to concentrate resources and editorial firepower on major factual brands such as Panorama.
BBC insiders are angry that a programme with strong public service credentials has fallen victim to a drive by the director general, Mark Thompson, to cut costs.
The decision comes as judges are to hear an appeal against a murder conviction that was
prompted
by a 2005 Rough Justice programme.
"Rough Justice has not been on the air since April and the strand will not continue," a BBC spokesman said.
"But BBC news and current affairs will continue to investigate potential miscarriages of justice, for example the recent Panorama on Barry George and current affairs investigations into the Webster family and Angela Canning."
However, insiders expressed doubts that the kind of low-profile cases
championed by Rough Justice
would be taken up by Panorama.
Since first airing in 1980, the programme has taken up 32 cases and led to 15 convictions being quashed.
It was credited with contributing to the establishment of the Criminal Cases Review Commission in 1997.
Presenters have included Martin Young, David Jessel, John Ware and Kirsty Wark.
Both the programme's executive producer, Simon Ford, and
the programme producer, Louise Shorter, have recently taken voluntary redundancy.
Shorter
made the film about Barri White, whose appeal against his 2002 conviction for murder is being heard at the court of appeal on Wednesday.
Ford, whose documentary credits also include The Secret Policeman, said it was a "tragedy" that the BBC was ending Rough Justice.
"For 27 years a programme like Rough Justice has proved that television, as well as reporting on injustice, can actually change things," he added.
"Without a dedicated team doing that, many individuals who are wrongly imprisoned will stay there and the British public will remain ignorant of the failings of our justice system.
"This is a tragedy for the prisoners themselves and our greater society."
·
To contact the MediaGuardian newsdesk email
editor@mediaguardian.co.uk
or phone 020 7239 9857. For all other inquiries please call the main Guardian switchboard on 020 7278 2332.